INVERTED MANUFACTURE ISE MOVEMENTS
Many admirers of fine watchmaking are naturally inquisitive. They are often keen to see components ordinarily hidden from view and discover how various mechanisms work.
Inverted movements relocate those components positioned to the rear of the watch and showcase them front of house for the delectation of the wearer.
The ISE calibres (Inverted Schwarz Etienne) are 'inverted' self-winding mechanical movements, based on the ASE calibres. The micro-rotor and regulating organ are positioned to the front of the watch.
Mechanically curious wearers will appreciate the sight of the balance wheel oscillating to and fro as well as the hairspring pulsing with life.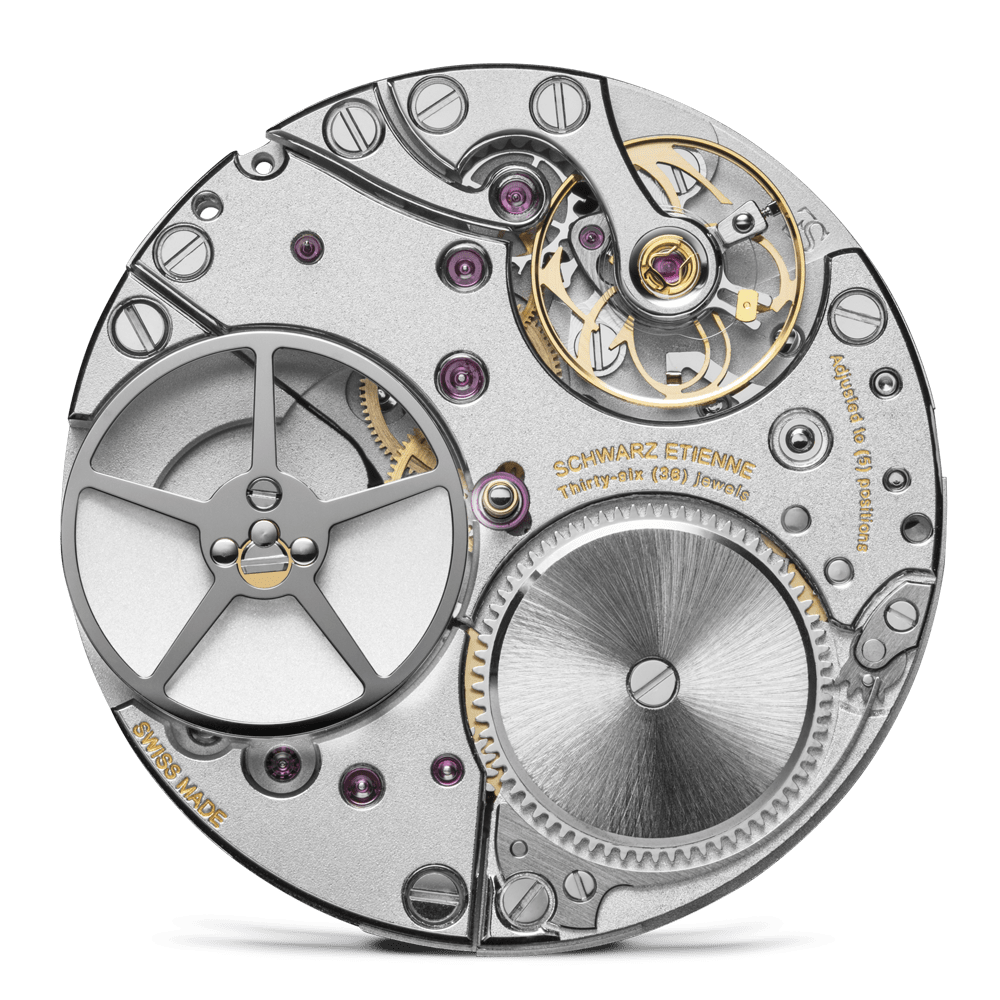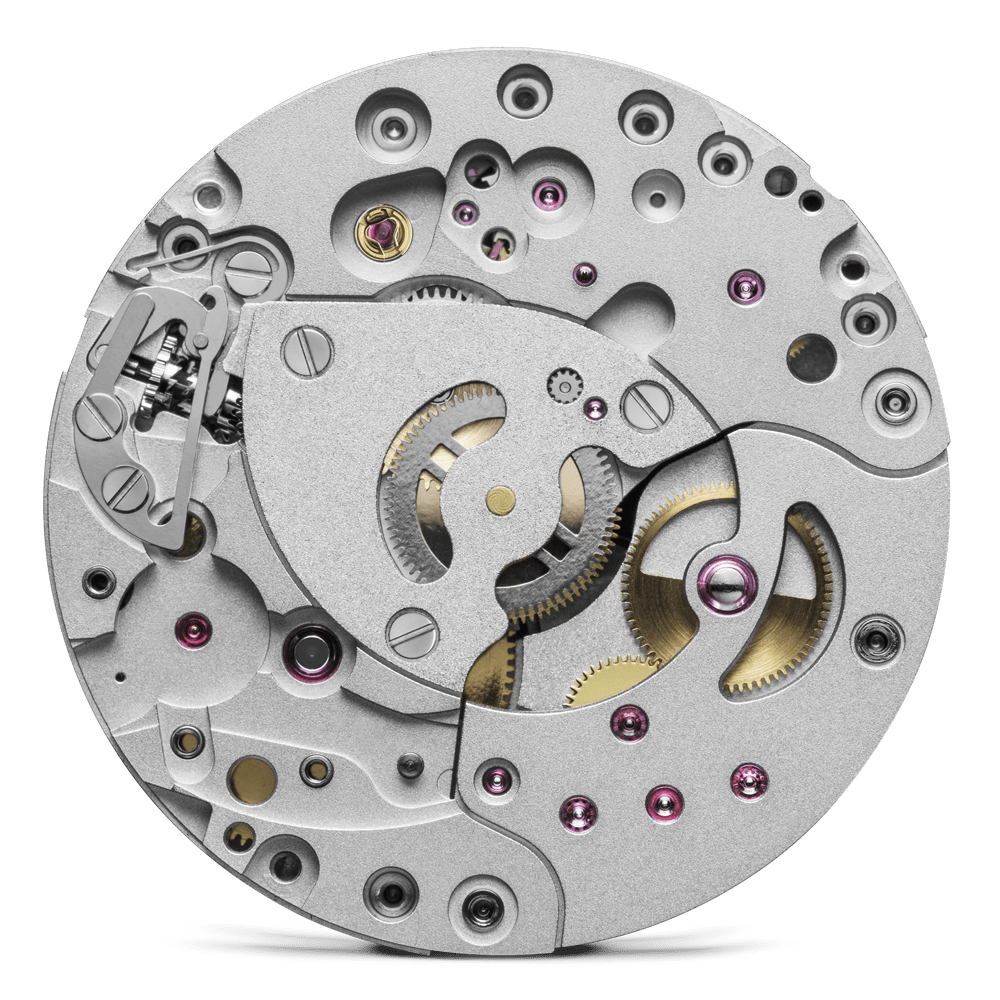 ISE 100.00
| | |
| --- | --- |
| Type | Manufacture automatic movement with micro-rotor |
| Functions | hours, minutes, small seconds at 11 o'clock |
| Technical characteristics | Stop seconds, micro-rotor at 9 o'clock |
| Diameter | 30.40 mm (13 ¼''') |
| Thickness | 6.30 mm |
| Diameter of casing | 30.00 mm |
| Decoration | Main plate : sandblasted (fine), Wheels : circular grained, Micro-rotor: hand bevelled, micro-blasted |
| Bridges | hand bevelled, micro-blasted (fine) |
| Frequency | 3 Hz (21'600 Alt/h) |
| Balance wheel | balance wheel with fixed inertia, produced in-house |
| Hairspring | hairspring with flat Philips terminal curve, produced in-house |
| Power reserve | 86 hours |
| Components | 241 |
| Jewels | 36 jewels |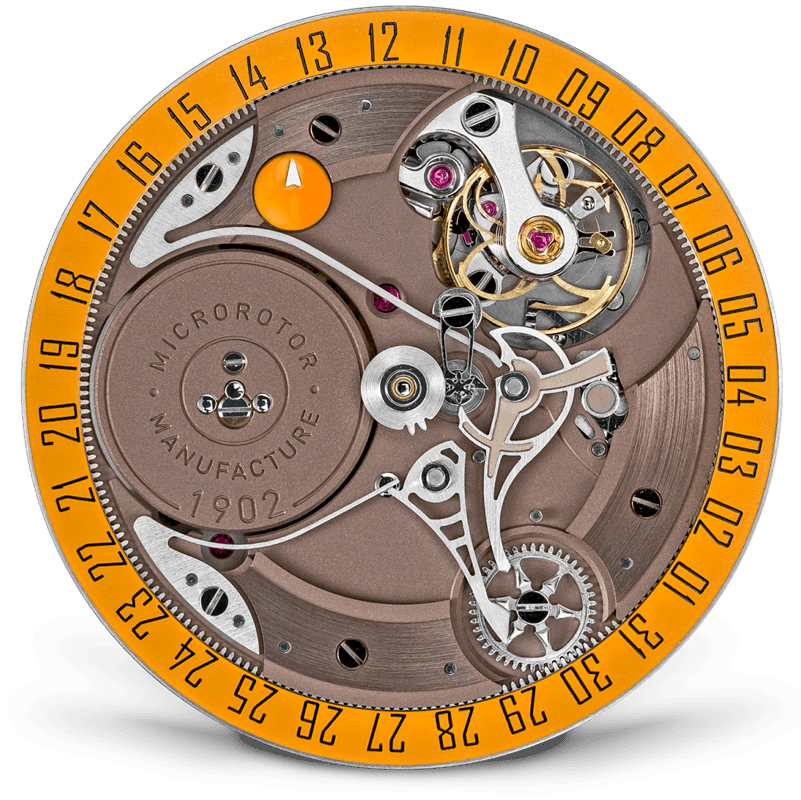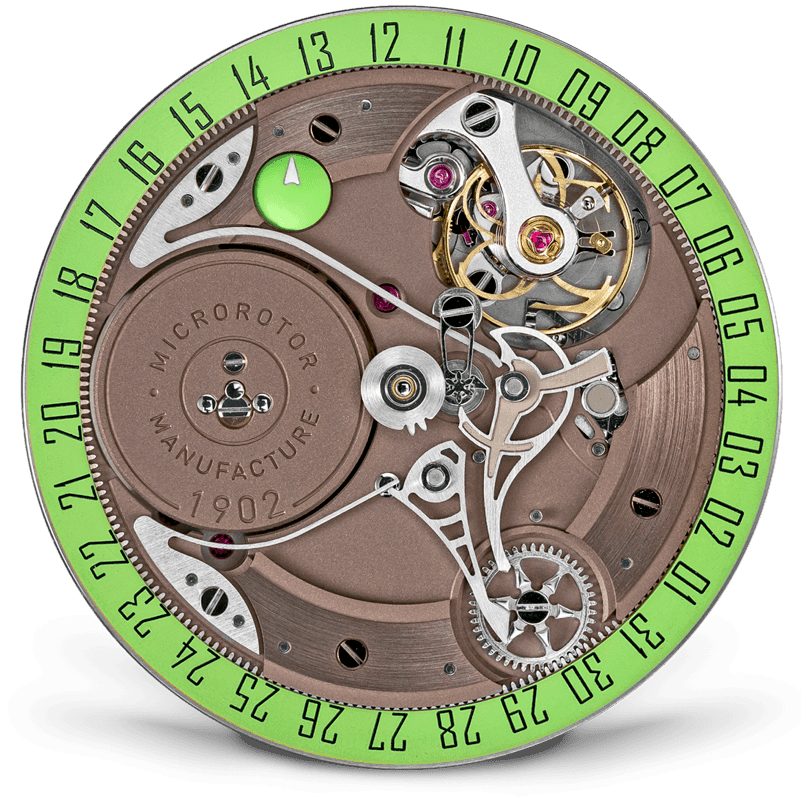 ISE 100.11
| | |
| --- | --- |
| Type | inverted Manufacture automatic movement with micro-rotor and fully visible date wheel |
| Functions | hours, minutes, small seconds at 11 o'clock, date at 2 o'clock |
| Technical characteristics | Stop seconds, quick date corrector at 4 o'clock, micro-rotor at 9 o'clock |
| Diameter | 30.40 mm (13 ¼''') |
| Thickness | 6.30 mm |
| Diameter of casing | 30.00 mm |
| Decoration | Main plate – sandblasted (fine), Wheels: circular grained, Complication bridges : etirage finish, hand bevelled, satin finished, Steel components: satin finished with sunray decoration, Micro-rotor: hand bevelled and micro-blasted, Screws: polished |
| Bridges | hand bevelled, micro-blasted (fine) |
| Frequency | 3 Hz (21'600 Alt/h) |
| Balance wheel | balance wheel with fixed inertia, produced in-house |
| Hairspring | hairspring with flat Philips terminal curve, produced by E20 |
| Power reserve | 86 hours |
| Components | 241 |
| Jewels | 40 jewels |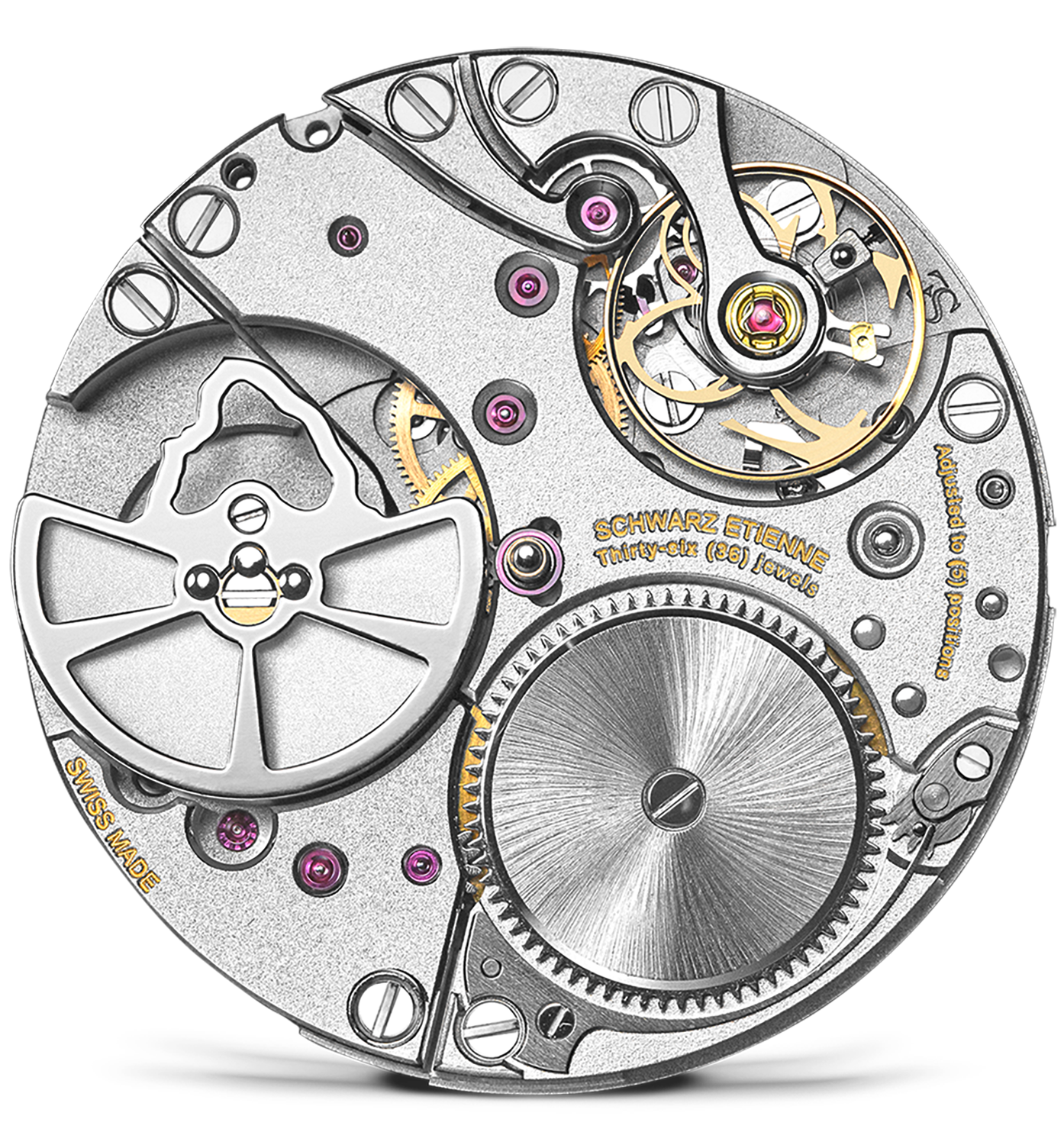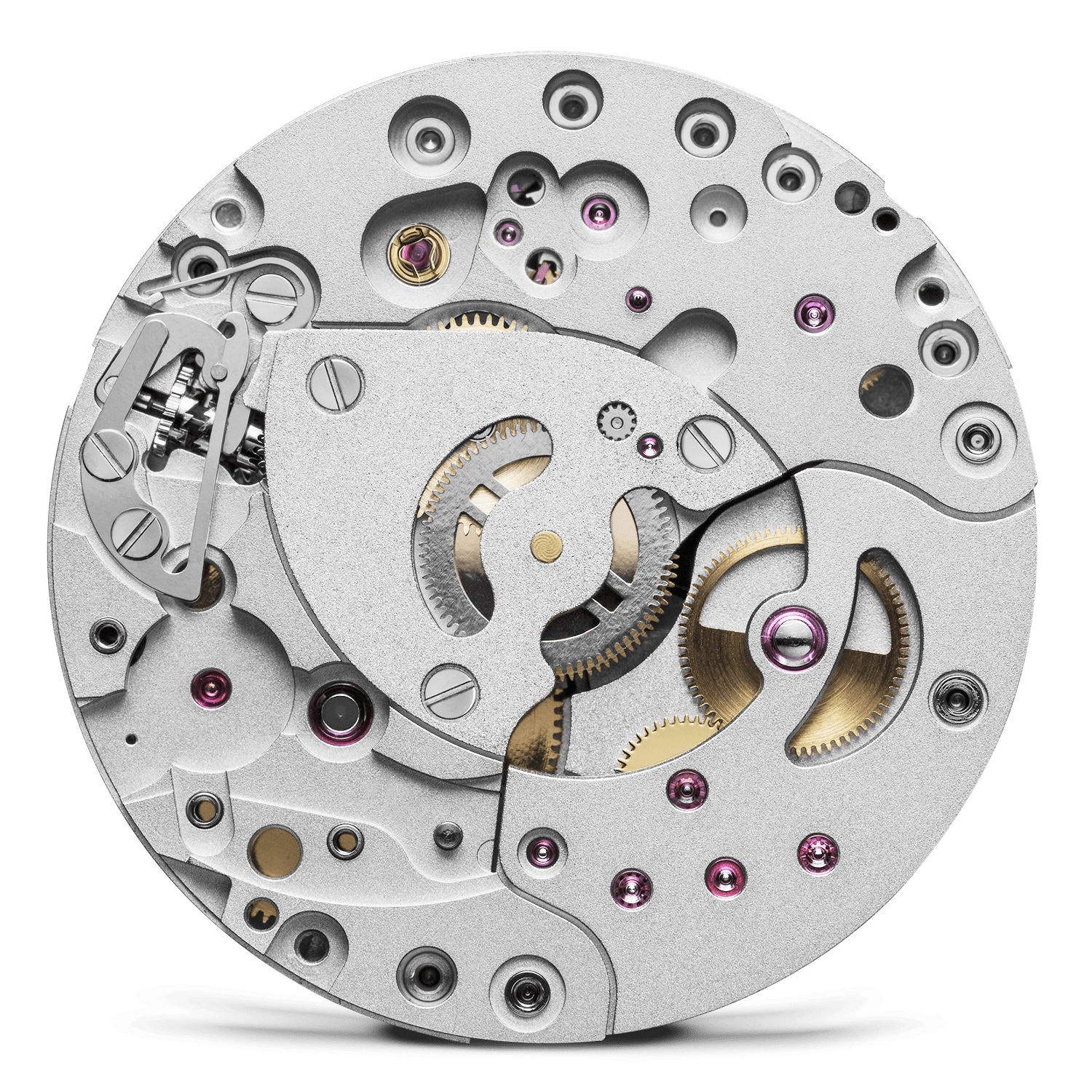 ISE 101.01
| | |
| --- | --- |
| Type | inverted Manufacture automatic movement with micro-rotor |
| Functions | hours, minutes, small seconds at 11 o'clock |
| Technical characteristics | stop seconds, micro-rotor at 9 o'clock |
| Diameter | 30.40 mm (13 ¼''') |
| Thickness | 6.30 mm |
| Diameter of casing | 30.00 mm |
| Decoration | Main plate – sandblasted (fine), Wheels: circular grained, Steel components : satin finished with sunray decoration, Micro-rotor : hand bevelled, micro-blasted, featuring mountain-shaped profile, Screws: polished |
| Bridges | hand bevelled, micro-blasted (fine) |
| Frequency | 3 Hz (21'600 Alt/h) |
| Balance wheel | balance wheel with fixed inertia, produced in-house |
| Hairspring | hairspring with flat Philips terminal curve, produced by E20 |
| Power reserve | 86 hours |
| Components | 241 |
| Jewels | 36 jewels |
DISCOVER OUR OTHER MOVEMENTS