MANUFACTURE ASE MOVEMENTS
While some horophiles derive pleasure winding a manual movement each day, some wearers prefer the convenience of an automatic movement. Providing the watch is worn, it will continue to tick, a welcome attribute for many time-poor, business professionals.
Visually, the ASE (Automatic Schwarz Etienne) calibres appear similar to the company's MSE (Manual Schwarz Etienne) calibres. This is because they also subscribe to the same patented modular design. Sharing the same main plate, the ASE calibres eschew one barrel in favour of a micro-rotor.
The micro-rotor, an off-centre oscillating weight, is thicker than a conventional rotor and yet remains compact, sitting within the space usually occupied by one of the MSE calibre's barrels. Featuring highly efficient bi-directional winding, the micro-rotor doesn't increase the dimensions of the calibre and, unlike traditional oscillating weights, it offers an alluring, unimpeded view of the movement.
All ASE calibres run autonomously for up to 86 hours. The variable inertia balance delivers notable precision, reliability and rate stability. The ASE calibres can also be used as base movements, serving to accommodate various modules.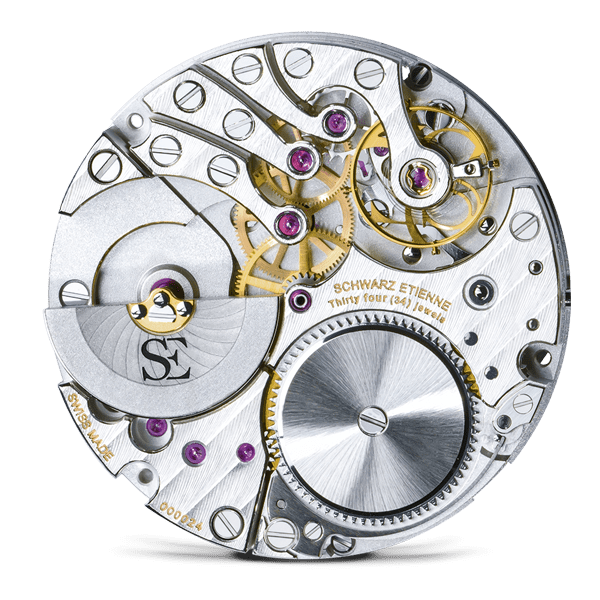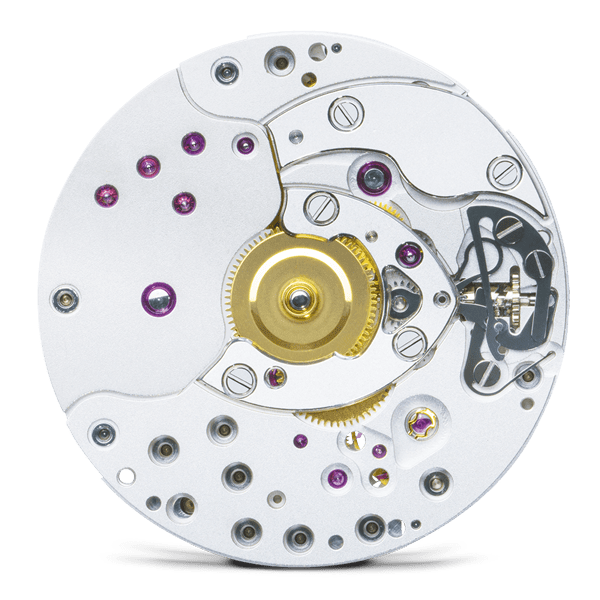 ASE 100.00
| | |
| --- | --- |
| Type | Manufacture automatic movement with micro-rotor |
| Functions | hours, minutes small seconds at 6 o'clock |
| Technical characteristics | stop seconds, micro-rotor at 9 o'clock |
| Diameter | 30.40 mm (13 ¼''') |
| Thickness | 5.35 mm |
| Diameter of casing | 30.00 mm |
| Decoration | Main plate – sandblasted (fine), Wheels: circular grained, Steel components : satin finished with sunray decoration, Micro-rotor : lacquered and snail motif, Screws: polished |
| Bridges | hand bevelled and adorned with Côtes de Genève motif |
| Frequency | 3 Hz (21'600 Alt/h) |
| Balance wheel | variable-inertia balance, produced in-house, hairspring with flat Philips terminal curve, produced by E20 |
| Power reserve | 86 hours |
| Components | 213 |
| Jewels | 33 jewels |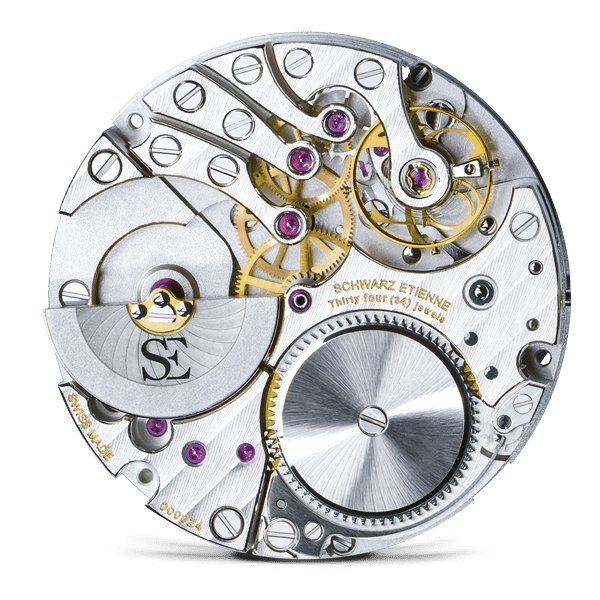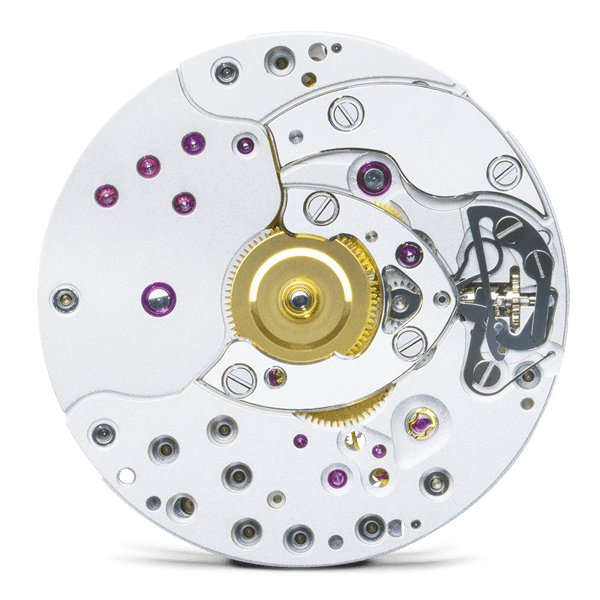 ASE 120.00
| | |
| --- | --- |
| Type | Manufacture automatic movement with micro-rotor |
| Functions | hours, minutes, small seconds at 6 o'clock, central GMT |
| Technical characteristics | stop seconds, micro-rotor at 9 o'clock |
| Diameter | 30.40 mm (13 ¼''') |
| Thickness | 5.35 mm |
| Diameter of casing | 30.00 mm |
| Decoration | Main plate – sandblasted (fine), Wheels: circular grained, Steel components : satin finished with sunray decoration, Micro-rotor : lacquered and snail motif, Screws: polished |
| Bridges | hand bevelled and adorned with Côtes de Genève motif |
| Frequency | 3 Hz (21'600 Alt/h) |
| Balance wheel | variable-inertia balance, produced in-house, hairspring with flat Philips terminal curve, produced by E20 |
| Power reserve | 86 hours |
| Components | 213 |
| Jewels | 34 jewels |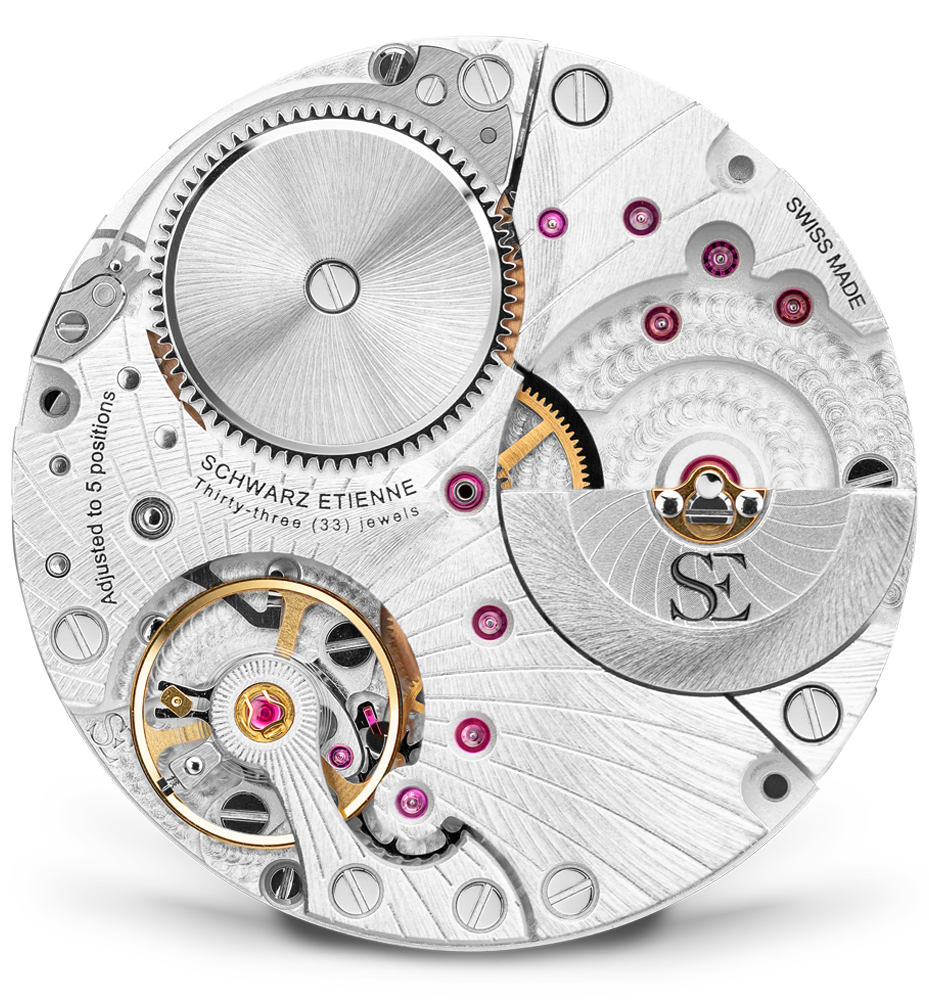 ASE 200.00
| | |
| --- | --- |
| Type | Manufacture automatic movement with micro-rotor |
| Functions | Hours, minutes, animated seconds display |
| Technical characteristics | Stop seconds, micro-rotor at 9 o'clock |
| Diameter | 30.40 mm (13 ¼''') |
| Thickness | 5.35 mm |
| Diameter of casing | 30.00 mm |
| Decoration | Main plate – sandblasted (fine), Wheels: circular grained with 4N gold treatment, Steel components : satin finished with sunray decoration, Micro-rotor : lacquered and snail motif, Screws: polished |
| Bridges | Bridges adorned with rayonnantes. The balance bridge is embellished with a sunray motif emanating from the balance wheel. |
| Frequency | 3 Hz (21'600 Alt/h) |
| Balance wheel | balance wheel with fixed inertia, produced in-house, hairspring with flat Philips terminal curve, produced by E20 |
| Power reserve | 86 hours |
| Components | 198 |
| Jewels | 33 jewels |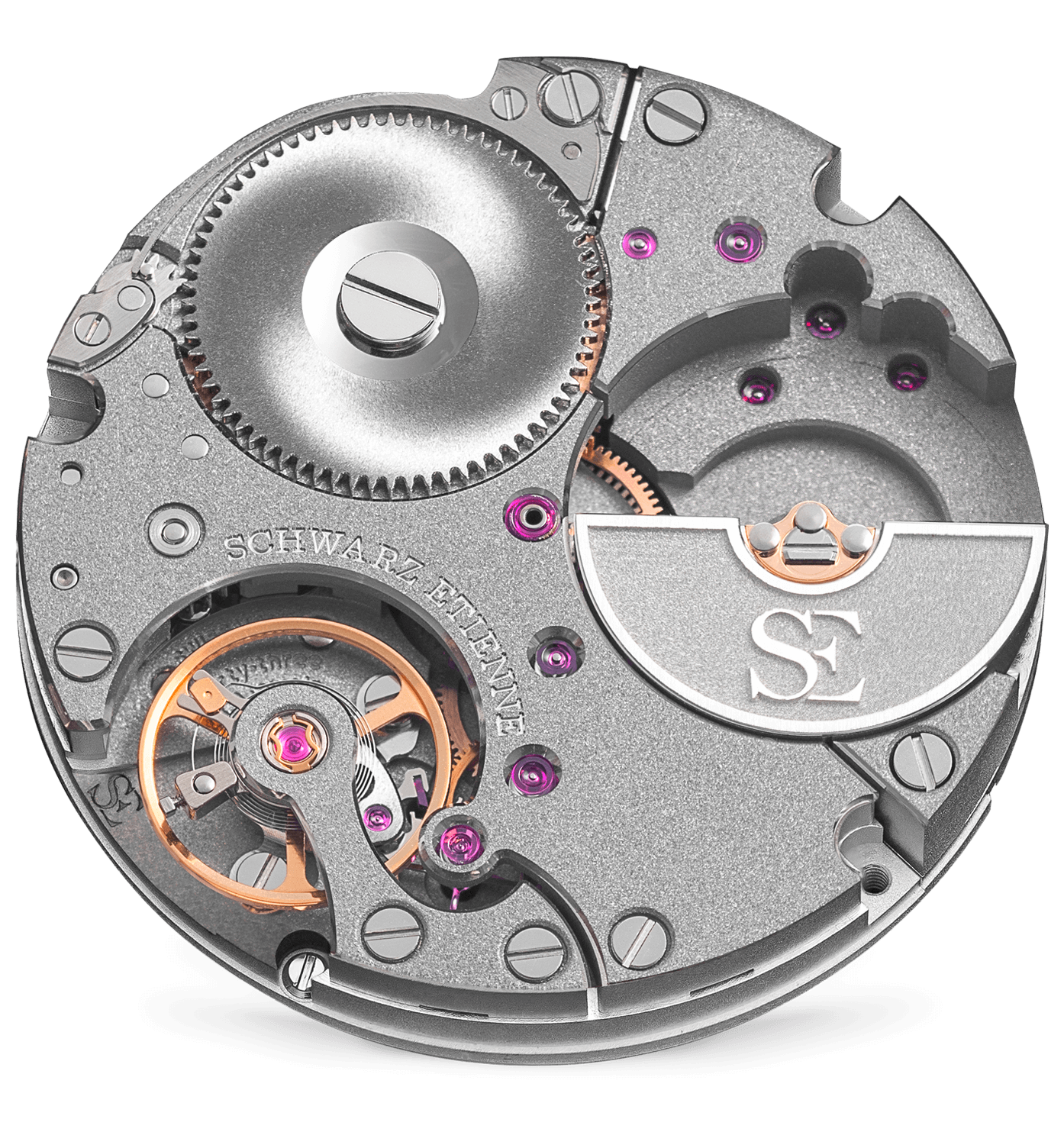 ASE 200.02
| | |
| --- | --- |
| Type | Manufacture automatic movement with micro-rotor |
| Functions | Hours, minutes, small seconds at 6 o'clock |
| Technical characteristics | Stop seconds, micro-rotor at 9 o'clock |
| Diameter | 30.40 mm |
| Thickness | 5.35 mm |
| Diameter of casing | 30.00 mm |
| Decoration | Main plate : sandblasted (fine) in grey brass, Wheels : circular grained with 4N gold treatment, Micro-rotor: lacquered and snail motif |
| Bridges | Fine sandblasted in grey PVD, rhodium-plated angles, tone-on-tone engraving |
| Frequency | 3 Hz (21'600 Alt/h) |
| Balance wheel | balance wheel with fixed inertia, produced in-house, hairspring with flat Philips terminal curve, produced in-house |
| Power reserve | 86 hours |
| Components | 198 |
| Jewels | 33 jewels |
DISCOVER OUR OTHER MOVEMENTS